With designs from the Glowforge Catalog, you can print amazing and wonderful creations on your Glowforge even if you don't have the time, skills, experience, or inclination to design from scratch. This article covers a number of popular topics about working with Catalog designs.
Design Details
For any designs you buy from the Catalog (and Free with Premium and Design of the Month designs) that are more complex or need assembly, we've made step-by-step instructions for you. The design details window opens automatically when you open a Catalog design so you can see if there are any before you print and assembly instructions. If so, just follow the steps, and your finished print is just minutes away!
Note: Design details are only included with designs you purchased from the Catalog. There are no design details for customer-created or uploaded designs.
Here's what you can do with the design details window:
To close the design details window, in the upper right, click

HIDE

.

To open a design details window you have closed, on the upper toolbar of the workspace, click the 3 dot

More

menu, and then click

Design Details

.

To get more room on your workspace, and still see the design details, click

Open in new tab

.
To discard any changes you've made to the design, and go back to the original design, click Reset design.


Modify Catalog Designs
You can modify Glowforge Catalog designs. For example, you can personalize a catalog design by adding your own artwork or text, adjusting print steps settings, or using other manual settings, and more. Any changes you make will be saved automatically as you go, so you're free to create, knowing that your changes will be there even if you close your browser, or navigate to another page.

Note: If you export designs from the Catalog that you've modified, those exports will include only your own added artwork and settings, but not the original catalog design.


Undo Changes
You can easily undo any changes that you make to a design.
Here's how:
On the upper toolbar, click

Undo .
The Undo option is available as you work with a design - until you close or refresh your workspace. After that, the design is saved as you last left it so you can start again from that version.
However, if you want to get a clean start on a catalog design, you can always reset a design back to the original version by using the steps in the next section.


Reset Catalog Designs
If you accidentally make a change that you can't undo, or have any issues printing or assembling the design, you can reset the design back to its original state.
Here's how:
With the design open in the workspace, click the 3 dot

More

menu, and then click

Design Details

.

In the design details window, click

Reset Design

.
You can also use this to reset a design that you personalized for a gift, and now want to use again and personalize differently.


Reset and Update Designs
Occasionally, we update our catalog designs to make them easier and better to print and assemble (often based on feedback we receive from customers like you). When you open a design that's been updated, you'll have the option to reset and update the design.
Note: When you chose Reset and Update, it will permanently replace the previous version, including any customizations you may have made.
If you skip the update, you'll have another chance the next time you open the design.



Commercial Use
Some of the designs in the Catalog are marked for commercial use. That means you can print them and sell what you've printed! You can also make changes and customizations to the design. To learn whether a design is licensed for commercial or personal use, in the Catalog, click the design and the license information is in the description.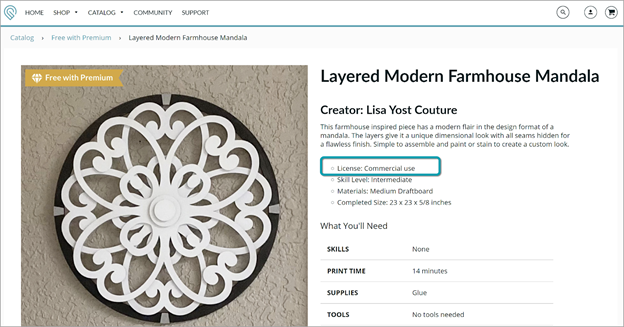 You cannot sell or use for commercial purposes the designs that are licensed for personal use.


Multi-page Designs
Sometimes, more complex designs require different materials or multiple sheets of material. These complex designs will show in your Dashboard as a few separate prints. For these complex designs, just print them in order and follow any instructions in the design details window.
For example, this Acrylic Barrel Lamp is three different prints: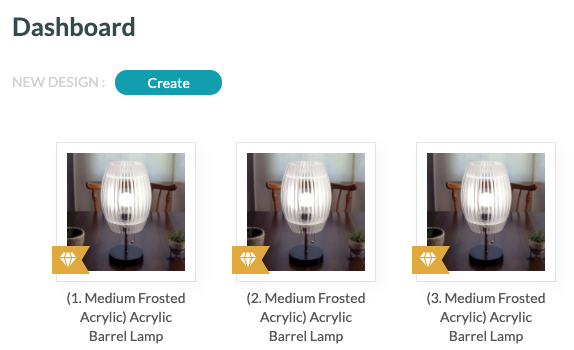 See also
Save, Undo, Store, Export, Sort, and Search Designs
Learn more about Glowforge Premium.