You've designed something magical, and you've decided to offer it on the Glowforge Catalog. Your designs will be more eye-catching if you showcase them in the best light.
By presenting your design on a clean, white background, you can highlight the incredible details of your design for your customers and create a realistic expectation of your finished print. These photography guidelines will help get your photos ready for the catalog.
What you'll need
A camera

: You can use a professional camera or your cell phone.

A white background

: You can use a professional light table or a couple of well placed foam board sheets.

Great lighting

: You can use professional lighting equipment or a space with great natural lighting.

Supporting props

: You can include props to your photograph to help customers understand the size of your print or how it can be used.
Types of photos in the catalog
Required
One studio shot on white

: This article focuses primarily on how to get that great studio shot.

One lifestyle shot

: A lifestyle shot is a picture of your print in its natural habitat. You can use small props to help your customers understand what it can be used for.
Optional
Scale shot

: A picture that gives an idea of the size of your print.

Detail shot

: These are close ups that help show off the finer details of your prints.

Group shot

: If your item is part of a set, add the other items in the background so that people can search for your other offerings.

Motion shot or animated GIF

: If your print has a dynamic function or multiple use-cases, record a small gif animation to help showcase its uses.

Process shot

:This is a shot of your design as it's being created. You can use these to show off your creative workmanship on your social media to tease the design.
How to shoot on white with natural lighting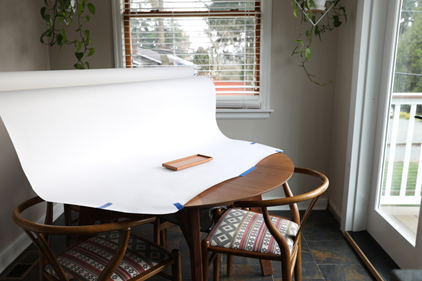 No fancy lights? No problem! With just sunlight and two sheets of clean white boards, you can look like a professional.

Diffuse the light

: The best time to photograph your prints is when it is overcast (because clouds are giant diffusers). Direct sunlight can give you sharp shadows and harsh reflections. You can also take photos in the shade at the brightest time of the day. If you are inside and struggling with harsh shadows, try placing a sheet over the window.

Bounce cards

: On overcast or rainy days, you can use a bounce card to reflect the sunlight where you want it to go. Bounce cards are simple flat pieces of material with a reflective surface on one side that are independent from any light source. You can use white poster board, but an easy DIY hack is to just cover a board (or piece of Proofgrade) in tinfoil. You can also wear white clothing to help bounce back light while you take the photos.

Try to not mix lighting

: Natural and artificial light have different color tones and that can wash out your photo. For example, combining the warm light from a tungsten lamp with the harsh blue-green light of an overhead fluorescent bulb, or the blue light from strong sun, is hard on the eyes.
How to shoot on white with artificial lighting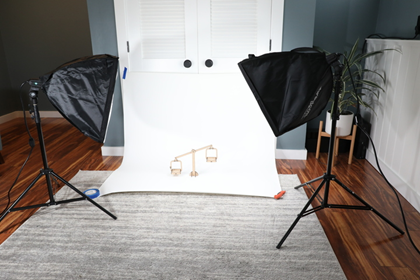 Box lights

: If you want more control over your environment, artificial lighting is the way to go. While the lighting in your home won't be strong enough to enhance your photo, light boxes come with diffusers made of fabric and cast soft light. Try lighting your stage from the top and both sides for the best results.

Use a lightbox or tent if your item is small enough

: Think of this as a small portable mini studio. You can streamline your photos and have the same look every time. This is the most plug-and-play option and can be folded to store out of the way while you start making the next bit of magic.

Flash

: Avoid using your flash when you are using your phone. It lives very close to the camera and can wash out your images.
Pro tips for that perfect picture
Focus
Clear photos make a world of difference and a steady shot will look much crisper than a shot taken by hand using a cell phone. You can use a tripod, a stand, or set your camera on a flat stable surface. Tripods are also a great way to get hard to reach angles or top down views of your print. Use autofocus on your phone or camera whenever you can.
Low light
When you are in a low light environment your cell phone camera will automatically lower the shutter speed. This can make your pictures blurry, because small actions like breathing can bump the camera. If you are struggling to get crisp photos, try adding more light.
How to compose and stage your photo
Make sure that everything is clean of dust or debris. Any dust will have to be photoshopped out and might cause your photo to be rejected.

Center your item in the middle of your shot. Consider what angle would best showcase your design. Few things look good straight on, so focus on making a nice unique silhouette. Most items are shot from a high angle, but flat items can be shot straight down.




Make sure there is nothing but your print in the shot, no hanging wires, dust or hands.
Edit your photos
We recommend adjusting the brightness to match these photos below. Photoshop Elements is free and easy to use!